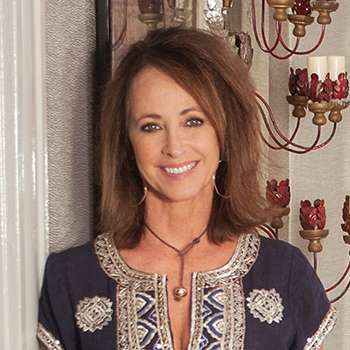 Sneak Peak of a Work In Progress: Thoughtful Renovation of a Chesapeake Bay Farmhouse
FOYER
Love the willy nilly pattern of the horizontal striped stair runner installation:
OFFICE
Mix of blue patterns, vintage rug and a swirly rope lamp:
GUEST SUITE
Pretty in pink with a vintage iron bed:
Petite antique secretary with painted floors and pink trimmed sheer linen curtains:
Pristine pleated curtain heading:
Detail of custom vanity in bath:
Antique chair re-imagined with fresh pink floral:
MASTER SUITE
Serene bedroom is given zest with antique Oushak carpet:
Slipcovered headboard with ties and vintage hand-painted side tables attributed to Sister Parish's atelier:
Detail of armchair skirt with leather tie:
Custom vanity in master bath:
Detail of paint finish with soapstone counter and "living finish" brass hardware:
BOYS ROOM
Black lacquer beds with accents of red and local oyster shell lamps:
Antique bureau mixes with mod leather wrapped mirror:
POWDER ROOM
Family heirloom works well as custom fitted vanity:
Stay tuned for more from this Chesapeake Bay treasure!
We have been SCOUTED by The Scout Guide, Richmond VA
"GOING GREY" "Always sophisticated and far from gloomy, grey is a perennial favorite of ours. Able to be paired with anything, the color is a versatile chameleon we can't imagine tiring of, whether when used in our rooms or incorporated into our wardrobes. In fashion, a stylish grey sweater shares must-have status on par with […]
On Location On a Chilly Winter Day
Too many freezing snow days made us miss summer and one of our favorite projects by the sea. We loved photographing all the turquoise and aqua blues, Moroccan tuffets and pillows, and meticulously handcrafted oyster shell lamps. Dreary winter is sure jazzed up by these sunny yellow accents in this grand scale Gallery and Living […]
Visit one of our favorite retail projects in the Libbie and Grove area of Richmond, VA. "Owner Nancy Gottwald opened the chic women's boutique among the shops at Libbie and Grove on Aug. 23 and carries everything from casual basics to high-end cocktail attire, as well as stylish jewelry and accessories." "The interior of the […]
Find us in the Scout Guide Richmond Volume 2!